Our Difference: Designing Websites for Sales Growth
Unlike traditional web design companies, Acorn Marketing transcends mere aesthetics to offer a comprehensive website creation experience. As a marketing agency, we comprehend that your business' ultimate aspiration is not just to be online, but to amplify sales and foster sustainable growth. Our forte lies in crafting websites that blend visual appeal with potent functionality, thereby driving conversions and bolstering marketing endeavors.
Picture this: When you want a new couch or bed, would you commission a carpenter to laboriously create one from scratch, or would you prefer the IKEA experience, a marketplace of readily available, customizable, and quality-assured options? The web design industry has largely remained in the carpenter stage, with few innovations and inefficient processes. But we at Acorn Marketing do things differently.
We revolutionize website creation by making it as simple as shopping at IKEA, with our content and design process that includes the extraordinary functionality along side with a vast array of options. Our approach enables you to choose from a plethora of design options and content ideas, personalize according to your brand's unique identity, and rest assured about quality, performance, and efficiency. Trust us to design a website that elevates your brand, asserts your authority, and propels your business growth, all without the usual hassles associated with traditional web design companies.
Creating a successful website requires a well-crafted content strategy, one that ensures a seamless user experience and delivers compelling, on-brand messaging. That's where we come in. We kickstart our website creation process with a comprehensive form: "List of Website Suggestions, Decisions, and Deliverables for our Branding Website Package." 
Our form serves as a strategic tool, guiding you through the crucial decisions and deliverables needed for your website. Whether it's selecting the ideal structure, creating enticing content, or choosing impactful visuals, our process makes it easier than ever.
Rather than leaving you to brainstorm content ideas, we've undertaken that task for you. Our form offers a wealth of suggestions, each designed to showcase your unique brand, services, and story in the most engaging way possible. It empowers you to make informed decisions, prompting you to consider key features like social proofs, a Google Maps embed of your location, or the inclusion of a portfolio to showcase your work.
Our approach prioritizes flexibility. We understand that every business is unique, and so should be its website. If you wish to take a different direction, add more features, or need something completely out of the box, we're ready to adapt and accommodate your needs. Our vast database of designs and features allows for endless customization.o frequently asked questions. Our goal is to make the website creation process as effortless and efficient for you as possible.
Our unique design process aligns seamlessly with our content strategy, creating a streamlined approach to website development that caters to all your unique requirements. With over 30 distinct website templates and an impressive array of 800 design layouts and widgets at your disposal, you have complete control over the end product. 
If you wish for a hands-on experience, our Complete Involvement approach gives you absolute control over your website's design elements. From headers and footers to color themes and font styles, you can select and decide every detail. For those who prefer to leave the intricacies to us, we offer the 'Leave it to Our Designers' approach where our expert team crafts a unique design based on your business and branding guidelines.
Our most popular choice, the Hybrid model, offers the perfect blend of control and ease. You provide the foundation by choosing a template, and our designers infuse it with creativity, molding it into a custom design that perfectly aligns with your brand.
Our expert team of designers are at your side to tweak and adjust every aspect, ensuring your vision comes to life. 
What's more, our robust templates serve as a perfect starting point for your site's design. You can add, remove or modify layouts across sections, creating a truly personalized and dynamic website. With our bespoke approach, we aim to blend these elements to perfection, ultimately creating the ideal website for your brand.
Mobile Optimized
Websites that we develop will work seamlessly on tablet and mobile devices. A fully engaging ux design will also be provided to help you create an optimal viewing experience across all devices for your customers.
Social Media
Our web designers can build social media into your website in terms of both icons as well as feeds and engagement. This allows you to gain followers and drive engagement directly from your website.
UX Design
User Experience Design will make sure your website is visually appealing as well as easy to navigate for you visitors as we will follow best website conventions. We will use an assortment of high quality stock photos, videos, overlays, and animation if necessary to give your site a quality look.
Security
Security of your website and data is very important to us. We will make sure that your website is secure from bots, hackers, virus/malware using antivirus, firewall, reCAPTCHA, backups, and other third party software.
Conversion Drive Design
Even though your website will look great, it won't distract from its main purpose of driving clicks, engagement, calls, and sales. This will be achieved by using action oriented designs and careful consideration to your customer's psychology through the use of copywriting.
CMS
We are wordpress CMS experts. WordPress is an extremely popular and powerful open source CMS that allows for exceptional SEO features. This CMS allows us to custom design a website to suit your needs as well as lets you to easily manage your website once deliver if you wish to do it yourself.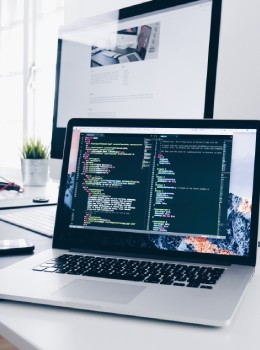 Web Tools and Applications
We can integrate many different web applications and widgets within your website. Whether you want an appointment/reservation, delivery app, chat bot, payment integrations or many others, we've got you covered.
Personal Service
You mean everything to us. We believe in building long term business and personal relationships. As you begin to grow, our web design and seo experts are always there to listen to your suggestions as well as bounce ideas off each other.
E-Commerce
We can integrate an online store within your website. It would be easy for you to add and remove items as program all the back end stuff so you don't have to worry about it. We can integrate a shopping cart as well as payment processing.
Satisfaction Guarantee
We are so certain that you will be happy with your web site design that we guarantee it. We will make sure you will enjoy the final product that we allow unlimited revisions until you are happy. We will also offer a 30 day money back guarantee if you are not satisfied with your website.
For small businesses that want a presentable website for their web presence that is simple and informative.
Click Here To See More Details
Included:
✓ Up to 3 Uniquely Designed Pages
✓ High Quality Stock Photos
✓ Access to all of our Designs, Headers and Banners without custom edits
✓ Free set up of 1 of our website widgets
✓ Google Map Integration
✓ Access to 1 of our contact form designs
✓ Access of 1 of our Basic Galleries
✓ Google Map Integration
✓ Access to 1 of our Contact form
✓ Social Media Buttons ✓ SSL Security Certificate ✓ Complete Hosting Setup/Transfer
✓ Single Edits Before Completion
X After Completion Edits
Extra Services:
Content/Copywriting- $0.15/word
Extra Page – $50
Extra Website Widget set up – $50
Extra customer Banner design – $50
Want to chat?  Call us toll-free
For small businesses that want both a functional and information website that has the "wow" factor in terms of design.
Click Here To See More Details
Included:
✓ Everything included in our branding package
✓ Up to 5 Uniquely Designed Pages
✓ High Quality Stock Photos
✓ Access to all of our Designs, Headers and Banners with custom edits
✓ Free set up of 2 of our website widgets
✓ Access of both our Basic and Dynamic Galleries with custom edits
✓ Google Map Integration
✓ Access to any of our contact form with custom edits
✓ Custom design of up to two banners
✓ Social Media Buttons
✓ SSL Security Certificate
✓ Complete Hosting Setup/Transfer
✓ Unlimited Edits
✓ 2 Weeks of Free Edits After Transfer/Completion
Extra Services:
Blog Setup – $99
CTA to Email Setup -$59
Ecommerce Setup – $399
Customer Portal Setup – $399
Search Bar Integration- $59
Content/Copywriting- $0.15/word
Want to chat?  Call us toll-free:
Marketing Startup Package
For businesses that want to use their website for SEO or want to try to start to generating leads.
Click Here To See More Details
Included:
✓ Up to 10 Uniquely Designed Pages
✓ High Quality Stock Photos
✓ Access to all of our Designs, Headers and Banners with custom edits
✓ Free set up of 6 of our website widgets
✓ Free Blog Setup
✓ Access of both our Basic and Dynamic Galleries with custom edits
✓ Google Map Integration
✓ Access to any of our contact form with custom edits
✓ Custom design of up to two banners
✓ Social Media Buttons
✓ SSL Security Certificate
✓ Complete Hosting Setup/Transfer
✓ Unlimited Edits
✓ 1 Month of Free Edits After Transfer/Completion
✓ CTA to Email Setup
Extra Services:
Extra Banner – $60
Social Media Feed Setup – $60
Content/Copywriting- $0.15/word
Additional Work -$50/h
Ecommerce setup- $399
Additional Work -$50/h
Want to chat?  Call us toll-free:
For business that wants to set up ecommerce store or have their customers use their website for a custom portal
Click Here To See More Details
Included:
✓ Everything Included in Premium Branding Package
✓ Unlimited Set-Up of Our Website Widgets
✓ Choice of Ecommerce or Customer Portal Setup
Extra Services:
Extra Ecommerce Setup $399
Extra Customer Portal Setup – $399
Content/Copywriting- $0.15/word
Want to chat?  Call us toll-free: